Spinning® and Virtual On-Demand
| Spinning®/Cycling | Spinning® Express |
| Virtual Ride On-DEMAND  | Spin® Flex
|
Fitness Classes
 | Yin Yoga | Dance Groove |
| Zumba |  Strong 30
|
Note: You can cancel your class reservation up to 8 hours prior to the start of class, or your class credit will be forfeited.
If you have a monthly unlimited membership, a $10 fee will be charged to your account.
x
Spinning®/Cycling
Included with "Spinning/Cycling" and "Unlimited Spinning®/Cycling" Packages.
Let's ride together on the brand new Spinner Chrono Power bikes! This high-intensity cardio class is great for anyone who is training for a triathlon, or riding for cardiovascular health, or just loves to ride a bike for fun! This class is powered by Spivi! So come reserve your favorite bike and have a blast riding up and down hills, doing sprints, while singing to the music.
You will see these classes listed as Spinning® or Cycling on our schedule. They're both high intensity, high quality classes but, Spinning® classes are taught by our premiere Spinning® certified instructors.
x
Virtual Spin
Included with "Virtual Spin®", "Unlimited Spinning®/Cycling", and "All Access" Packages
Virtual Spinning is a unique ride for the the rider who enjoys gaming elements, dynamic scenery, and interactive visuals. Each rider will pick their own avatar who will engage in virtual worlds, go on a space travel, while burning calories, and having fun. This class is powered by Spivi.
x
Morning Rides
Included with all "Spinning®/Cycling" and "Virtual Spin® Packages".
Get your early morning ride in! At a special half off discount!
x
Virtual Ride On-DEMAND
Included with "Spinning®/Cycling" and "Unlimited Spinning®/Cycling" Packages.
Don't have time to get to one of our scheduled live cycling classes with your favorite Posh instructor, but you still want to ride? Well then drop into the studio on your own time to take one of our virtual cycling classes. One of our staff members will gladly assist setting you up on your bike. Our system is scheduled to run automatically. You will be guided by your choice of virtual instructors from different countries around the world! The virtual instructor will guide you just like you were in a live class, monitor your performance data, all while analyzing and displaying a real-time interactive 3-D scenery. Get ready to have a Posh time and sweat!
x
Yoga
Included with "Group Fit (GF)" and "All-Access" Packages
x
Soul Fit Yoga
Included with "Group Fit (GF)" and "All-Access" Packages
This Class is a more fitness focused yoga to more soulful music. You will still perform the same yoga poses, but you'll feel a bit more burn! Be ready to work for your Shavasana.
x
Posh Kids™ Yoga
Children will learn how to focus and center themselves with various breathing and visualization techniques. They will also learn self-respect and respect for others with the practice of fun and challenging poses, partner and group poses, lots of yoga games, breathing and basic anatomy. Class is 45 minutes.
x
Posh Bounce
Posh Bounce is a unique fun safe low impact cardio workout that uses rebound jumps boots. In this class you can burn up to 25-50% more calories than you would during a traditional exercise class and it's easy on your joints. This class will help you to improve your endurance, stability , muscle strength, and burn calories. If you already have boots great! If not you can rent a pair. Boots are limited so we encourage you to book your classes early. Please contact us at info@posh.fit with your shoe size.
x
Zumba
Get ready to party yourself into shape! Zumba® is an exhilarating, easy-to-follow, international dance inspired, calorie-burning fitness-party™ that will leave you wanting more! Dance your way to a body you love.
x
Cardio Kickboxing
Cardio Kickboxing combines martial arts techniques with fast-paced cardio exercises to high energy music. This fun workout challenges the beginner and elite athlete alike. Each student will build their stamina, improve coordination and flexibility, and may burn up to 500 to 900 calories!
Your instructors include Mel and, the ageless Black Belt Champion, Master Tyrone!
x
Boxing w/ the Vanilla Gorilla
Sam Crossed, better known as "The Vanilla Gorilla", is a professional, undefeated boxer, who holds the record for the quickest knockout in DC/Baltimore boxing history, 4 seconds! Join the Vanilla Gorilla for a workout where you will learn proper boxing techniques and go through an intense cardio and abdominal workout. If you're going to learn boxing, might as well learn from the best! Open to all ages, genders, and levels of fitness. 
x
Sacred Hips In Motion Belly Dancing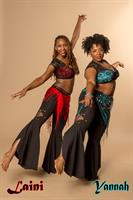 Students will learn the basics of moving like a goddess! This class combines dance arts, fitness, and sacred feminine movement that strengthens, heals, and empowers women to embrace the sacred feminine energy we all possess…all while getting a deliciously sweaty workout! This class will  expose students to the many benefits of belly dance such as toning and tightening core muscles, strengthening arms, revving up the metabolism, alleviating stress, improving flexibility, and promoting inner well-being through dance.